Posted by The Cowhiderugs.co.uk Team on 10th Jun 2020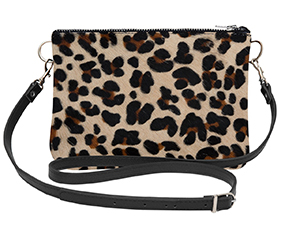 Almost everyone knows that accessories are essential if an outfit is to be taken from ordinary to something unique and unforgettable. The universally appealing cowhide purse is the perfect choice in this category. A favourite of many fashion designers, cowhide purses and handbags can add flair to virtually any outfit, and they are a timeless addition to your wardrobe. This is because genuine animal skin products never go out of style, and it is easy to find one to complement any outfit you own. High quality craftsmanship is used to create these stunning purses, totes and handbags. In addition, because authentic animal skin is very durable, shoppers can look forward to purses that offer exceptional longevity. Each bag also boasts a durable, YKK zipper and is fully lined.
The Perfect Accessory
There are many ways to dress up an outfit with a cowhide purse, whether your style is business, casual, trendy or formal. In fact, you may decide to purchase a few different cow skin handbags to pair with different types of attire and ultimately have one that works with any outfit. The patterns feature beautiful, neutral colors that blend well with almost any fashion style. Because no two cows are exactly alike, you are guaranteed a one-of-a-kind product when you invest in one or more of these attractive purses and totes.
Beautiful and Versatile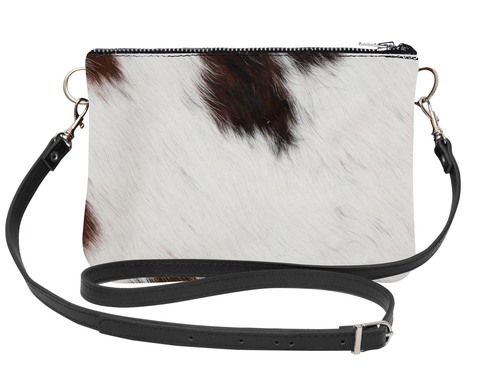 They also come in numerous sizes so that you can choose one that is perfect for the items you wish to carry. Small cowhide purses can be used for coins and keys, while medium-size bags are great for keeping makeup, passports, combs and similar items. Large purses make great clutch bags. The cowhide shoulder bag is also a great option. Its size is ideal, as it is small enough to avoid being cumbersome, yet large enough to hold all your essential items. For fun, you may even decide to mix-and-match. For example, you can purchase cowhide purses in a set, such as the shoulder bag with a small cowhide purse placed inside for items such as lipstick and coins. These timeless accessories can be used for specific purposes as well, such as a coin purse, makeup bag, travel bag or trendy case in which to keep jewellery and other small items when you're at home.
Unique Patterns and Colours
There is an impressive range of colours from which to choose when selecting a new handbag, purse or tote. Most feature authentic cowhide patterns, but trendy colours such as pink, bright green or black are also available. No matter which design or pattern you choose, these accessories are guaranteed to turn heads wherever you go.
A One-of-a-Kind Item
As mentioned above, the pattern of each bag depends on the cow hide from which it was made, making each purse and tote entirely unique. Additionally, because all purses and handbags are individually photographed, you can rest assured that the item you order will be the exact one pictured.
An Ideal Gift
If you are searching for a one-of-a-kind gift for that special someone, a cowhide shoulder bag is a great choice, regardless of the occasion. Items of this kind cannot be replicated by large companies, and since everyone enjoys receiving a unique gift, cowhide purses are the perfect option.
If you are looking for a bag that is luxurious, beautiful, and practical, order a unique cowhide purse or handbag today and enhance your accessory wardrobe this season.