Posted by The Cowhiderugs.co.uk Team on 24th Apr 2018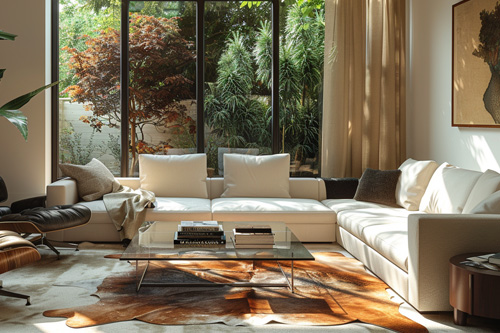 Are you in an interior design rut? If you want to give your residential layout a memorable starting point, you should look into all of your options in animal skin floor coverings. Cowhide rugs can be particularly compelling to people who are in the process of the design process. There are many noteworthy things that make them so enchanting and interesting as well.

Rugs that consist of cowhide are totally natural. Modern society is becoming increasingly dependent on things that are synthetic and far from "real." If you want to get back in touch with things that are more natural, you should look for a rug that's made out of animal skins. The skin of a cow is striking due to the fact that it's genuinely one-of-a-kind. That's not an exaggeration. If you buy a bona hide rug that's made out of cow skin, it won't look exactly like any other one in the world. That's a powerful concept. People are constantly looking for ways to stand out in the competitive interior design realm. The distinctiveness of cow skin can help make your abode a lot more striking and unforgettable.

These rugs are undeniably calming visually. They put all sorts of subtle yet attractive and pleasing colors on display. They feature all sorts of magnetic and pleasant color combinations, too. Some of them are a combination of classic black and white. There are others that are enchanting blends of reddish brown and off-white. If you've always been someone who is interested in nice color blend approaches, you probably won't be able to turn away from these famed animal skin rugs.

Cowhide is a powerful material. It's nothing like so many feeble and synthetic material choices that are out there nowadays. If you're bored by rug materials that are flimsy and prone to swift deterioration, you should consider buying a cowhide rug as soon as possible. These rugs can hold their own even in the most unforgiving daily environments. If you have a household that experiences hefty floor traffic, cowhide rugs don't have to make you feel out of control in any manner. That can help your peace of mind in a major way. Life is too short to waste panicking about the state of your rug. If you invest in a rug that's sturdy and that can stay that way for years, you can free yourself.

These rugs are wonderfully hypoallergenic. Life with allergies can be tough. There are certain material varieties that can make handling allergies even more complicated. If you want to stop having to think about the stresses of your allergies, rugs that are all about cow skin can be a welcome addition to your existence. These rugs can also be helpful to people who live with others who have allergies. Sneezing for hours can be annoying. Dealing with eyes that are overly water and itchy can be just as vexing. Hypoallergenic rugs can be superheroes for people who have allergies.

These rugs aren't a pain in the maintenance department. If you want to do your part in keeping your cowhide rug lovely and fresh, you honestly don't have to do much beyond shaking it outdoors once in a while. If you happen to spill something on your rug mindlessly, you can usually reverse any damage with the assistance of a lightly damp towel. A bit of water can help as well. Cowhide rugs are so well-rounded that they're becoming hard to miss in interior design layouts.