Posted by Nick Pole on 6th Nov 2014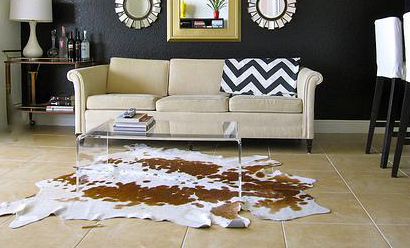 When you think about home decorations, cowhide rugs might not be the first thing that come to mind. But perhaps they should be. These rugs have an ornate beauty that can augment anyone's home. Even though the word "cow" might conjure up thoughts of toughness, these cowhides have a texture that is strong but comforting. For an old world look or for a unique centerpiece for your home, you have to consider cowhide rugs.

Cow hide has been used in rugs for centuries and of course was popular in the old west. For those of us in the modern world though there are many reasons why these rugs are a good addition. For one, the cow skin rugs are versatile. You can put these in just about any room. You should avoid getting them wet so the bathroom and kitchen are probably not a good idea. But the living room, den or bedrooms are all great places for these rugs. In fact, some people find that cow hide makes a great bedspread too.

Cowhide rugs are beautiful and can stand up as a main focal point for just about any room. They come in a variety of patterns and colors which make them very convenient when trying to pull together a color scheme for your home. You also can choose the pattern to either subdue or highlight the rug or the room.

Perhaps one of the most important factors about a cowhide rug is its durability. While a lot of other rug materials will wither under heavy trafficked areas, these rugs will stand up to the traffic over a long period of time. The price you pay for any cowhide skin is well worth the years and years of use you will get out of it once it's in your home.

And as a bonus, unlike many other rug materials, the cow hide is hypo allergenic. The value of this cannot be understated! Just ask someone who had bad allergies. If you have someone in your home that has allergies, these cowhide rugs will be at a least one thing in the house that won't make them sneeze.

Cowhide rugs have a lot going for them and can add to the decor of your home in many ways. Used as floor coverings, wall decor or bedding, they stand up to time and wear and tear. They are colorful and varied, no two are ever exactly the same. These versatile rugs are a great addition to any home.