Posted by Nick Pole on 26th Aug 2016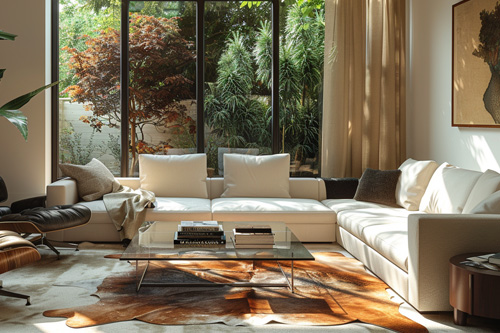 Originally cowhide rugs were mostly utilized in South America's ranching properties, yet now they are considered some of the choicest and funkiest home accessories. Owing to the recent rise of affordable cowhides, it is now possible to find cowhide rugs in assorted colors, prints and styles. As such, an increasing number of homeowners are now using the rugs for various purposes within their homes. In addition to being used on the floors, these rugs may also be used as wall hangings, furniture throws or as blankets. The popularity of these rugs may be attributed to their durability, beauty, affordability and function. If you are looking forward to buying a rug for your home, the following tips will help you get the right cowhide rug.

Using Cowhide Rugs to Complement a Contemporary Style

As a result of technological advancements, it is now possible to print and color cowhide accessories in numerous styles. As a result, these rugs are now available in a wide array of colors and print styles. In order to get a rug that will complement a contemporary décor in your home, you will need to choose wisely. If you are going to use the rug in a room that already has contemporary furnishings, you should buy the new metallic cowhide rug design. These rugs may also be used to contrast the color of the furniture in the room they are going to be used. For instance, the new metallic cowhide rugs may be used to contrast white and classic black furniture. If you are looking for a rug to use with classic pieces of furniture, the soft and luxurious cowhide rugs as some of the options you should consider. For the hardwood floors, you may use contemporary styled cowhide rug to enhance the visual appeal of the room and add warmth.

Combine Durability, Function and Beauty

While shopping for rugs, cost is one of the factors that many people tend to capitalize on. However, there are other factors that are equally important. For instance, you need to ensure that the rug is beautiful and durable. If durability, function and beauty are the aspects you are considering, cowhide rugs are the best option. This is because rugs that are made of natural cowhide are not only durable, but also fashionable and visually appealing. The indestructible nature of cowhide makes these rugs resistant to wear and tear. With regards to function, cowhide rugs have various applications. For instance, they may be used as blankets, furniture throws, wall hangings or used on solid, cold floors to add warmth.

Most of the cowhide rugs in the market today are of the new styles and designs. However, it is still possible to get the classic design of the rugs. These are available in natural and neutral tones of tan and brown. The classic cowhide rug design is best suited for rooms with a country theme. If you are looking for a rug to use in a country-themed or rustic room, the classic design is also the best option, but you should get the rugs with natural shapes and forms rather than the ones with straight edges and forms. You can also enhance the appearance of a rustic-styled room with an animal print style cowhide rug, such as the zebra print style cowhide rug.