Posted by The Cowhiderugs.co.uk Team on 7th Jul 2020
If your home looks great, but you are in need of some accent pieces that are attractive, unique, and easy to care for, look no further than genuine cowhide cushions. Accessories of this type provide an excellent avenue through which to add style and flair to a drab room or enhance an area where animal skin merchandise is already in place.
Sometimes minor touches make a greater impact than you think. Therefore, if you're looking for accent pieces that are guaranteed to give a boost to your home's current decor, consider investing in several authentic cowhide cushions. Below are some of the most popular characteristics of these home interior accessories: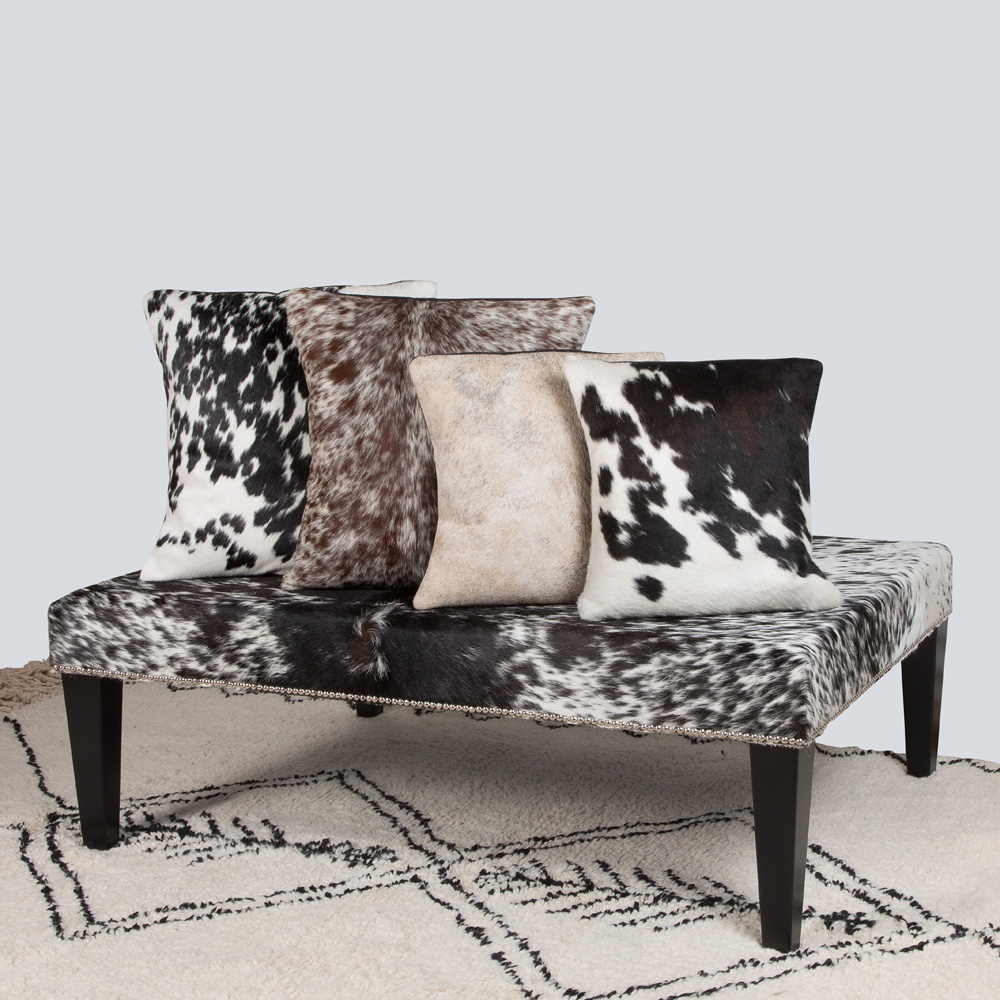 Natural Colours and Patterns that Blend Well with Everything
Because no two animals are exactly alike, there are no two cowskins that are identical. This means that each cushion you purchase will boast its own, unique colour and pattern. The unusual designs typically feature neutral colours, such as white, black, brown, tan or gray. However, because they are natural, the patterns tend to lend themselves well to virtually any type of decor, whether your home features a traditional, modern, rustic, country, trendy or abstract decorating scheme. Whichever ones you choose, you can rest assured they will create an atmosphere that is warm and inviting.
Luxurious Texture
If you're like most homeowners, you are well aware that traditional cushions typically offer few benefits regarding texture. This is because most manufacturers use the same man-made materials for their products. For this reason, man-made cushions are usually unsatisfactory when compared with the appearance and feel of genuine cow skin.
Durability and Longevity
Cushions made from synthetic materials always have a shorter lifespan than cushions made from authentic animal hides. The cushions offered on Cowhiderugs.co.uk, on the other hand, provide exceptional longevity and durability. These are some of their most appealing features. In addition, whoever is in charge of keeping your home neat and tidy will be pleased to discover that such cushions are very easy to care for and clean.
Versatility
Fortunately, cowhide cushions are also highly versatile. Therefore, rather than simply investing in one or two for your living room, keep your bedroom and family room in mind as well. Such cushions look beautiful as accent pieces on top of your bedspread, and because they are highly durable, they make a great addition to a family room that is used on a regular basis. A cowhide cushion also offers a beautiful touch of class to a rocking chair or similar piece of furniture in a hallway or foyer.
Hypoallergenic
An additional benefit of genuine cowhide cushions is the fact that they are hypoallergenic. In fact, virtually all types of animal skin products can boast this characteristic. This makes them an excellent option for individuals who suffer from asthma or allergies, or who are sensitive to synthetic materials. Because they offer so many features that are both beautiful and practical, it is easy to understand why cow skin cushions are so popular. Buy several today and see the outstanding difference they make in your home.