Posted by The Cowhiderugs.co.uk Team on 16th Oct 2018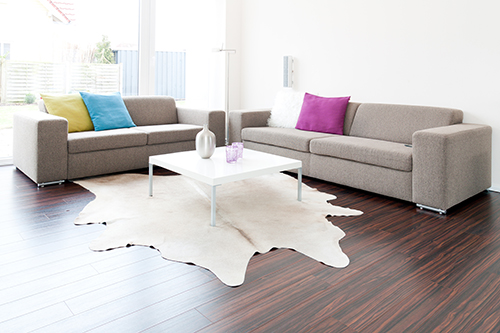 Authentic cowhide rugs look good in any home. For this reason, their popularity has not waned over time. Rather, they remain in high demand throughout Europe and other parts the world. Unlike many retailers, our cow rugs are not obtained from wholesalers who mass-produce low quality merchandise. Rather, the Cowhiderugs.co.uk collection is comprised of high quality, A Grade rugs made from cowhides that were handpicked in South America. Therefore, shoppers can expect outstanding quality for a reasonable price when they choose one or more rugs from the vast number of options we provide.
Options for Every Taste and Preference
When it comes to interior decor, customers' preferences are as diverse as the homes in which they live. This is why we offer an impressive number of choices so that all shoppers can find the colour, pattern and size rug for which they are looking. The Cowhiderugs.co.uk collection offers rugs that feature a single colour, as well as those that boast two or three colours in their unique patterns. Multicoloured cowhide rugs are also available, and these are favoured among many consumers as well. Shoppers can choose from traditional cowhide patterns, featuring black and white or brown and white combinations, or those that offer more intricate patterns and designs. Below are some additional options consumers should consider when making their selection:
Black and White Reddish Cow Rug
For those who enjoy rugs featuring unusual patterns and colours, a black and white reddish cowhide is ideal. Such rugs offer a traditional black and white design, with rich, warm undertones of red. This creates a centrepiece that is both cosy and elegant.
Brindle Cowhides Perfect as a Centrepiece
Brindle cowhides are another popular choice due to their relative rarity and exceptional combination of colours. Sometimes called a "tiger stripe" pattern, the Brindle hide features a variety of natural shades that merge together across the hide. Perfect for rooms in which the cowhide rug is meant to be the centrepiece, the Brindle rug is a fine choice for essentially any dwelling.
Speckled Cowhide Rugs Have an Appeal All Their Own
A popular and fun favourite, speckled cowhide rugs boast their own unique combination of chocolate, chestnut, white, beige and coffee shades. Ideal for homes featuring modern, abstract, or traditional interior designs, speckled cowhides are a highly versatile option that can easily make it through several redecorating projects and still somehow blend perfectly with the overall decor of the home.
Metallic Options for a Taste of the Exotic
Those in search of something exotic should definitely consider metallic cowhide rugs. The soft, luxurious surfaces of these rugs feature fashionable metallic colours that create an interesting contrast to the natural pattern of the hide. A choice that is somehow traditional and modern at the same time, metallic cowhide rugs have come to stay on the home interiors market.
Patchwork Cowhides– A Perfect Combination
Patchwork cowhide rugs are perhaps one of the most unusual options offered by this collection. As their name implies, they are rugs made from cowhide, but which also feature a classic patchwork pattern. A great conversation piece and a terrific choice for essentially any type of decor, shoppers cannot go wrong with patchwork cowhide rugs.
Size Options
Cowhiderugs.co.uk is also pleased to offer cowhide rugs in a variety of sizes. Customers can choose from medium, large or extra-large sizes. This ensures that the rug will look proportionally correct in the room for which it is intended. Many customers invest in cowhide rugs in several different sizes to complement more than one area in their dwelling. Individual tastes vary significantly from one shopper to the next, but all customers are happy with the timeless appeal an authentic, high quality cowhide rug brings to their home.