Posted by Nick Pole on 5th Dec 2016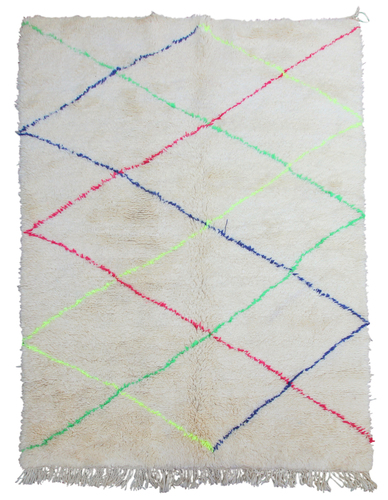 Berber rugs are making lasting impressions in interior design at the moment. They were unknown in many parts of the world in relatively recent times. They're now currently gaining considerable momentum in locations all across Europe, Northern America and beyond. If you're looking for ways to liven up your living space, it may not be a bad idea to consider a Beni Ourain rug.

Moroccan Berber rugs are made from the sheep that live in the Atlas Mountains of North Africa. That's why it should be no surprise that they're incredibly warm. If you need a floor covering that can give you a little extra warmth in the morning or at night, a Beni Ourain rug could make a stunning and reliable option. These rugs can provide you with comfort that's unparalleled. That's because they're not only warm. They're also extraordinarily soft and comfortable. If you place your feet on a Berber rug, you'll get an experience that's entirely brand new to you. Your feet will all of a sudden feel 100 percent relaxed. That relaxation will spread to the rest of your body as well. It doesn't matter if you suffer from constant back pains or muscle soreness in general. Walking on a Moroccan rug can make you feel amazing quickly.

These rugs offer a lot of beauty. They have simplistic charms that are quite striking. They're also rugs that can accommodate many preferences. If you want to be able to choose between diverse flat weaves, textures, patterns and designs, you should have a great time looking into them. Looking at these rugs is never boring. It's never predictable.

Modern life is chaotic. It can be hard to maintain your cool and composure in this day and age. People have so many obligations and responsibilities every day. If you're shopping for a floor covering for your residence, there's a big chance you're looking for one that's on the low-maintenance side. That's good news for fans of Moroccan rugs. Although these rugs are beautiful, they still manage to be a cinch to clean. If you dread ugly stains and spills, these rugs won't give you any unnecessary grief. They feature looped construction styles that make them simple to clean. This construction style contributes to spills that don't absorb deep down. If you spill a beverage on your Berber rug, you won't have to fear it quickly making its way far down into the fiber. That can give you a nice degree of peace of mind. These rugs can be excellent for people who have active pets. They can be great for mothers and fathers who have small children who track mud and dirt in from the outdoors. They can be wonderful for people who routinely have visitors as well.

If you're looking for a rug that's nice and strong, there are few options out there that can compete with the Beni Ourain realm. Berber rugs tend to be a lot stronger than many others. People can thank their looped fibers for that. Rugs that have cut fibers generally aren't as sturdy as their Berber friends. People who are looking for rugs that are exotic, fascinating, lasting and resilient should begin their searches for trusty Beni Ourains right away. These handcrafted floor coverings aren't going anywhere any time soon.