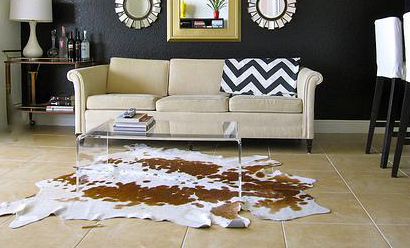 Choosing a cowhide rug for your home is a great way to make a statement that lasts for years. When it comes to the flooring in your home, it can look a bit bare if there is nothing added to it. In fact, a bare floor in the home can make a room feel cold and useless. This is where adding this specific type of rug to the room can really work out well for you. If you're wondering why an animal skin rug is the right option for you, there are many advantages to this specific type of product for the home.

First and foremost, animal hide is more durable than many other rugs available on the market. Many people who have these types of rugs find that they last for years, and they continue to look beautiful and new throughout that entire time. You'll never deal with a faded or ugly rug just because it's old when you make the decision to buy animal skins for the home. The lasting beauty of these rugs is definitely apparent for those who have chosen to both buy and use the product for themselves.

Another great thing about animal skin rugs is that they are completely natural in the way that they look and feel. When you buy an imitation rug or a simple rug made with different materials, the colours are all dyed and do not look natural at all. With animal hide, you're getting a rug that is completely natural in all of its beauty. This will better complement your home because you're not using something that looks synthetic and fake. More and more homeowners and renters are realizing just how gorgeous it can be for them to add this type of rug to any room of the home, whether it's a bedroom or the living room.

The animal hide itself is also very warm and comfortable, and it can add a sense of sophistication to a room like no other. Many people love to add this type of rug to a log cabin-style home, but it can even go with modern decor and furniture that you might have. The sheer warmth of the rug is also going to insulate your floors and make them a lot more comfortable to walk on throughout the day. This type of rug is fantastic for colder climates because of its insulating properties.

You can choose to use the rug on the floor as a beautiful complement to your decour, or you might want to add the rug as a throw to a couch or recliner. Whatever you choose to do with the animal skin, you're sure to get many years out of it for you and your family. The rugs are easy to clean and keep over time, so you'll never have to deal with something that's dirty and hard to take care of on your own. Be sure to look at many of the gorgeous rug styles and colours available to you so that you can decide on the one that is right for you. This will help you to decorate your home in the best way that you see fit.