Posted by The Cowhiderugs.co.uk Team on 24th Feb 2018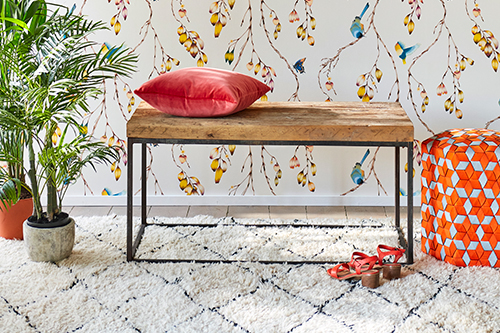 Indigenous to North Africa, the Berbers are an ancient and distinct ethnicity. They refer to themselves as i-Mazigh-en –- a name whose meaning is shrouded in mystery but may mean variations of "noble" or "free" people. They have been producing some of the world's most beautiful rugs for thousands of years with many design and motif variations being produced among the dozens of Berber sub-tribes who still inhabit the slopes of the Atlas Mountains and raise and shepherd sheep there.

The Berbers have spread out as well across a wide swathe of North Africa, including in Libya and Algeria, and have founded many sizable immigrant communities in countries in the West. However, the prized Moroccan Berber rugs and Beni Ourain sub-tribe produced rug textiles are mainly produced by Berber tribes living in the Atlas Mountains in western North Africa. It is here where ancient practices of herding sheep still persist and which provide the raw materials -– mainly exceptionally high-quality wool -- that tribeswomen use in their rug creations.

A happy confluence of factors has led to the present situation in which members of the Berber tribes that produce these items have been enjoying the benefits within the past 60 years or so of a vital injection of economic stimulus -- engendered by the international explosion of interest and desire for these unique textiles -- which is serving to hugely improve many lives.

As Moroccan Berber rugs and the number of sub-tribes -– including Beni Ourain rug producers -- are becoming ever more prized by consumers and interior decorators throughout the world, more and more people can enjoy the sublime charms of these beautiful rugs while feeling good about supporting the women who painstakingly hand-weave each and every rug, including Beni Ourain rugs.

There are many distinct sub-tribes within the larger rug-producing Berber contingent. This has naturally led to a wonderful and happy diversity of styles, motifs, weaving methods, colours and uses for these remarkable textiles. Some rugs are used as blankets or sleeping mats for chilly alpine nights, as ceremonial rugs for celebrations or religious rituals and as burial shrouds.

A deeply religious as well as superstitious people, the tribes-people who labor on these rugs typically include designs that they believe will bring good fortune or that will ward off malevolent spirits.

One of the foremost charms of Berber rugs and Ben Ourain rugs is that each and every rug is a story in of itself -– the daughters and women who carry on the increasingly lucrative practice incorporate styles, designs, symbols, motifs and colors that are an extension of their personality and life story. Berber women will use intimate details from their life experience in the creating of their Berber rugs, including by creating products that refer to themes bearing on birth, nature, fertility, rural life and femininity.

While the market has exploded for these precious and versatile creations -- to such a point where an industry in non-genuine, factory-produced versions now exists -- the price-point on genuine, lovingly hand-made rugs can be shocking to some. The market for vintage Moroccan Berber rugs is another story altogether, with prices that can commonly soar into the six-figure range.