Posted by Nick Pole on 25th Oct 2016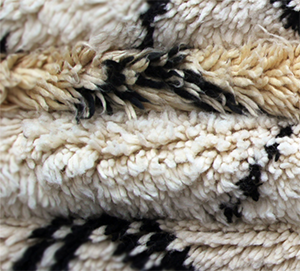 The best style is often the most simple. Decorating a room or an entire house often revolves around a specific decorating plan. This plan will typically include a basic style that is ideally going to allow for a timeless look that will help people enjoy the entire space for as long as possible. A few simple, timeless objects can truly help this vision come to life. This is particularly true with objects such as rugs. A rug can help set the mood in any house and bring in natural fabrics that look really great all year long. Well crafted rugs, made from fine materials using ancient techniques, like Berber rugs, are rugs that will not only look fantastic but also serve as an heirloom that can be passed down for many years.

Simple and Subtle

In choosing rugs for the homes, many people who love style and know rugs know that a simple, geometric style is often the best kind of style. Such simple yet elegant style is one that those who create Moroccan Berber rugs wholeheartedly embrace. These rugs are made by people who have been creating them for centuries. The result are rugs that have repeatedly shown to stand the test of time. Each Berber rug design is based on designs that have been created by Berber rug makers over centuries. The classic lines easily work well with other kind of simple and subtle objects such as classic sofas and basic lamps. Using such rugs means creating an entire look that is pleasing to many people and avoids the use of faddish ideas that may otherwise look dated and utterly out of style in just a few short years.

Hand Crafted

All Moroccan Berber rugs are woven from hand by people who know how to create objects of long lasting value. For centuries, the Berber nomad peoples have turned to such rugs to provide soft materials underfoot no matter where they happened to roam. The thick rugs have also been used to help shut up heavy winds and create a warm and dry space inside any living space. The techniques involved in creating thee types of rugs are passed on from generation to generation, allowing people to learn from professionals how they can also create an object that is beautiful and will last a long time. Each weaver is someone who takes pride in their craft and wants to make sure the products they create will be delightfully adored by their buyers.

All Natural Wool

Each Berber rug is made from all natural materials. The Berbers live in the mountains and use wool from the sheep that live in the Atlas Mountains to create their rugs. This means that their rugs are made from natural materials that are truly natural and completely in tune with the environment. Buyers can be assured that when they buy such rugs, they are getting access to high quality rugs that will truly offer them the chance to buy an object they can cherish and enjoy for many years.