Posted by Nick Pole on 20th Jun 2016
Cowhide Rugs Are Fashionable And Comfortable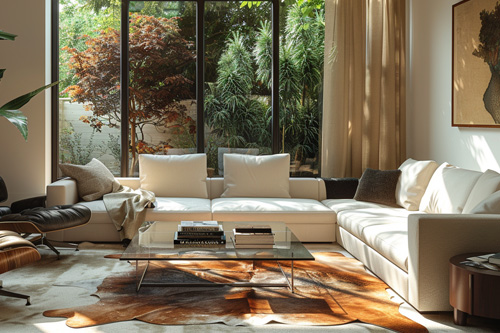 It can be easy to fall into a home design rut. If you feel that your living space looks dull, uninspired and unattractive in general, a natural cowhide rug may be able to infuse it with all of the energy and vitality it needs. It's easy to see why these rugs are gaining momentum in the interior design world.
There are so many qualities that make these animal print rugs attractive and intriguing. These rugs possess distinctive appeals that aren't easy to emulate. Cows are all unique individuals; this uniqueness applies to the stunning rugs these bovine creatures produce. If you want to decorate your home with a rug that's totally unique, cowhide may be the solution. They are available in a wide range of colours and different finishes including metallic and zebra print.

Cowhide rugs aren't only unique; they're also striking. Their dramatic looks can give your residence a touch of nature. They can also give your residence a nice exotic touch. If you're bored by solid coloured rugs that are man-made and available everywhere, these fashionable, effortlessly cool and durable rugs will probably change how you view home design for good.

People often fall in love with the versatility cowhide rugs offer. Although they're called 'rugs,' they don't always have to be used in that manner. These rugs are soft and work wonderfully as floor coverings. They luckily have quite a few other fantastic applications as well.
Some people like to put them on their living room walls to display to the rest of the world. Cowhide rugs work beautifully as tapestries. If you're proud of your cowhide rug and want to make sure no one misses it, using it as a wall hanging is probably the best thing you can do. Many people also like to use these rugs as warm and cosy throws. They're frequently used this way when the weather is rather cold. If you want to feel warm and comfortable in the frigid winter months, placing a cowhide rug on your sofa as a lovely throw may be exactly what you need. Cowhide rugs make throws that are simultaneously gorgeous and comfortable. There aren't many things that are better than that impressive combo.

It's not at all tough to care for these chic rugs, either. Their upkeep requirements are far from demanding and taxing. Basic cowhide rug cleaning is easy as pie. If you want to make sure your rug isn't being overrun by dust or dirt, take it outside to give it a thorough shaking. That should get rid of any existing debris. If your rug gets a stain, gentle soap and water will remove most stains easily.