Posted by The Cowhide Rugs Team on 18th May 2017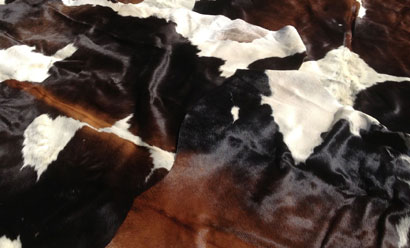 A cowhide rug is a perfect way to add to anyone's home décor with ease. It is a natural accent to a room's beauty, and they are also rather functional, too. A cowhide rug would be a great addition to any home for the following reasons.
Natural Beauty
As mentioned previously, one of the great things about purchasing a rug made of cowhide is the factor of its natural beauty. They are made from the natural hide of cows, so they come in many varieties since every cow hide is unique in its own way. They are soft to the touch, and they often reflect light, too. Their colours vary from sparkling white to rich browns, some of which have a deep, chocolatey black shade. Hence, they can be incorporated into any room's design, or they can work as a standout piece for accentuation.
Versatility
People do not realize how versatile a cowhide rug can be. They are warm to the touch, so they can keep feet warm in the colder months. They are not only to be used on the floor like a typical space-taking rug for warmth, though. In many cases, they can be used for a heavy throw blanket, too. They can be slung over a chair, couch, or bed as well. They also would make a great pallet on the floor for children to nap on.
Extremely Hardwearing
Cowhide rugs are extremely durable. They are made of high-quality hide, so they can stand up to damage dealt by pets and children with ease. These rugs have natural fibers in them that can stand up for years against normal and atypical wear and tear, but it is important to note that they are not stiff. Cowhide rugs are soft and luxurious to the touch. Cleaning these rugs is rather easy, especially when spot cleaning tactics are employed. Even the simplest of spills can simply be shaken off these rugs, so they will not stain their beautiful patterns.
Hypo-allergenic
What many people fail to realize is that these rugs are hypo-allergenic. They do not produce dander that will affect allergies, sinuses, or asthma. Most of this statement is true because of the tanning process these hides experience when they are being processed. Tanning makes sure allergens remain trapped within the rug and that the natural oils found within the rug do not grow moldy over time.
Conclusion
Rugs made from cowhide are a perfect addition to any room. They are a valuable piece of warmth and beauty that is versatile and hypo-allergenic, so they can be used by anyone in the family without worry.